If you're planning a beer party with friends or family, you will surely need some fun, alcohol-themed activities. Good drinks and good games ensure everyone has an amazing time. Check out our three fun party activities below. Introducing them at your shindig will ensure you and your buddies have a night to remember — or maybe not!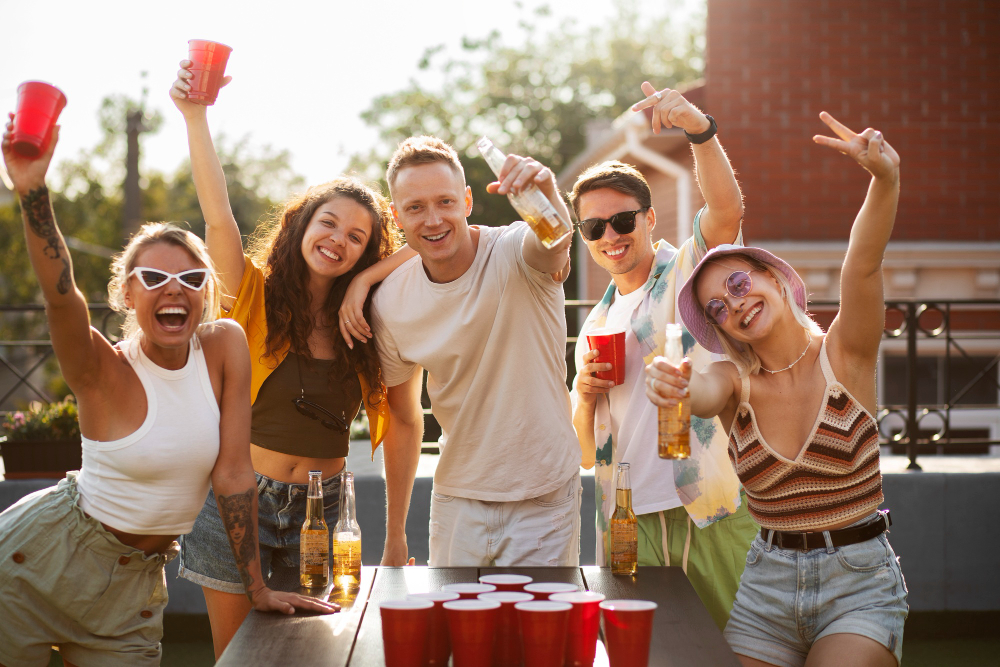 Beer flight testing
A beer party is a great chance for everyone to sample a whole range of new and exciting tipples. You can source these from local craft and microbreweries. Choosing such vendors will guarantee your guests won't have tried many of the beers before.
A beer flight is a set of small glasses of beer. You serve them together, often on a board, passing it to each guest. This allows them to sample a range of beers but without having to commit to a full-sized glass. Smaller glasses help your guests to try everything without getting too tipsy too soon.
Setting up a beer flight testing station takes some preparation. You'll need many small glasses, preferably tasting glasses, with a variety of beers. Your range needs to be selected carefully, showcasing different styles and flavors. Make sure your flight has a light beer, a dark beer, a fruity beer, and a bitter beer to give your guests a comprehensive array of flavors.
Label each glass with the name of the beer and tell your guests to rate them. This is a great conversation starter and will help share your passion for beers with your friends.
Drinking games
These games are always a popular party activity if you like your fun boozy! They are also a chance for your friends to get to know each other better by introducing some friendly competition.
One of the most popular games is Drinking Roulette. This game takes place using a roulette wheel with numbered slots. Each one corresponds to a shot glass filled with different beverages. Some will have just water or a mixer, others a strong spirit. Guests will spin the wheel and drink whatever it lands on.
This game isn't too difficult to set up as you likely have everything that you need to drink already. All you need is a roulette wheel, shot glasses, and a good variety of drinks. Remember to have fun but also watch out for guests who seem to be having a little too much fun. There's no shame in a time-out to recover!
Photo booth
One problem with a drinking party is that your guests might not remember everything. Getting some funny photos taken is a great way for them to reminisce later about their fantastic night.
You might choose to make a DIY photo booth. Gather a backdrop, a tripod, and a camera with a timer. Then your guests can take photos throughout the night. You can also get together funny props to make the photos even more amusing. Hats, glasses, signs, and fancy dress costumes are a great place to start.
If you want a more professional experience, you can hire a photo booth. This will increase the quality of the photos taken and make the experience as easy as possible.
A photo booth is also an opportunity for guests to share their experiences after the night on social media. Just create a hashtag for the party. Guests can then upload their favorite photos to social media using the hashtag. This will create a bank of memories, ensuring the party stays in your guest's minds long after it is over.
Activities for an unforgettable party
These three fun cheers and beers to party activities will make sure that when you host a party, it will be a hit. These activities are perfect for everyone, from beer connoisseurs to people who just want to have a laugh with their friends. Get everything together, and make a night to remember.