There are many ways to make your party go with a bang. Good music, good company, and party games are just three things that make a great soirée. Another, of course, is the selection and availability of beverages. Most party-goers like to socialize with a drink in their hand. It goes a long way toward the perfect party to ensure there is a wide selection of beverages available. Everything from wines and beers to spirits and mixers, to a tasty selection of juices and sodas for anyone who prefers a non-alcoholic tipple.
Let's take a look at some important factors when planning the beverage selection for your party. Choose well and no guests will be short of a refreshing drink or two!
Kegs
A good beer party wouldn't be the same without a keg or two. This is a small pressurized beer barrel with a capacity of 30 gallons or under. They have a tap for dispensing beer.
Primarily, they offer great value, providing a large volume of beer and serving many guests. Just a few kegs contain enough beer for most parties. What's more, it's beer on tap, making a refreshing change from people drinking from cans and bottles.
It's possible to hire kegs at most liquor stores or from specialist rental companies. Breweries also offer keg rental. A couple of things to consider, however: First, ensure that your keg is icy cold when the party begins, as nobody wants a warm beer later on. Secondly, you may want to think again if your party venue is up lots of stairs. A 30-gallon metal barrel is heavy!
Beer cans and bottles
While kegs are a popular option for serving a high quantity of beer, beer cans and bottles are also a great choice if you want to get a great variety. They offer a convenient and easy-to-serve option that does not restrict you to the work of a single brewery. This means that you can cater to far more tastes.
You can get your beer cans and bottles from your local grocery store. Alternatively, if you want a more eclectic variety, you can curate a selection from your local brewery or craft beer shop.
Wines, spirits, and mixers
Although most people who opt for alcoholic drinks are happy with a beer or a glass of wine, it's important to consider guests who prefer something different. Providing a wide range of spirits and mixers opens up a whole world of possibilities, from classics like vodka soda and gin & tonic to the exotic world of cocktails. Either let guests make their own, or set up a bar complete with a cocktail-mixing bartender. Alternatively, you can make a large bowl of fruit punch, for guests to dip into as they wish.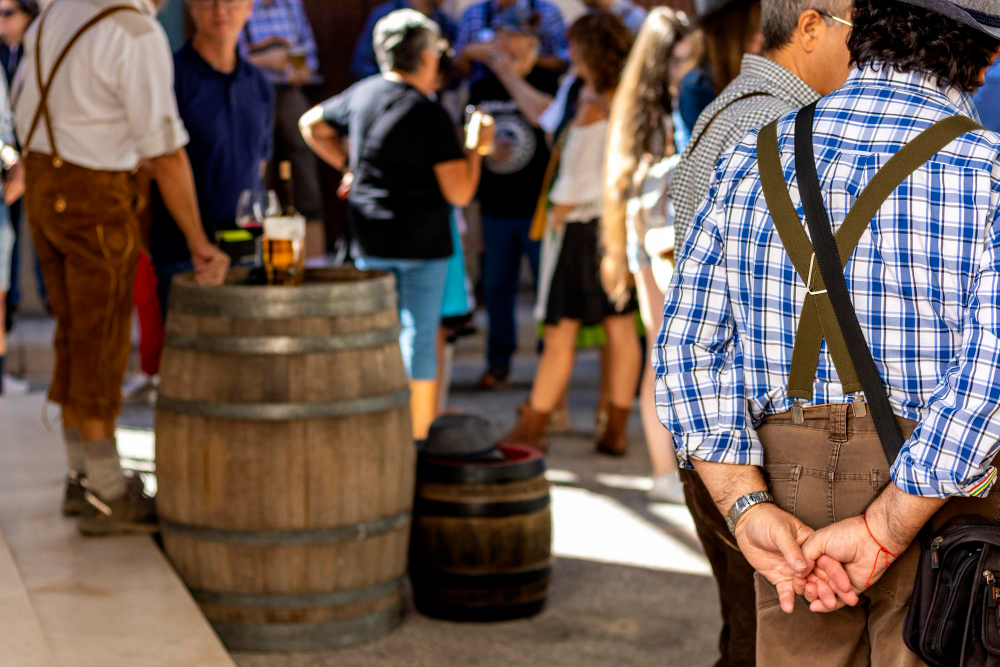 Finally, ensure you cater to wine lovers for, by providing a choice of whites, reds, and even a rosé to sample.
Sodas, juices, and waters
Not everyone at a party wants to drink alcohol. Sodas, juices, and other soft drinks are not just for designated drivers. Therefore, a tasty range of non-alcoholic options is an absolute must. Alongside your Cokes, Seven Ups, and cordials, try offering more exotic options, such as root beer and cream soda, for a refreshing experience.
No matter how wild the party is, it's a good idea to promote responsible drinking. So, make sure that there is plenty of water available for people who want to alternate alcohol and rehydration, or just for people who feel thirsty. Guests will thank you later!
Offer something for everyone
As we've seen, it's not too difficult to ensure the range of beverages at a party reflects everyone's preferences. However, most guests may be very happy with beer, many like a glass or two of good wine, while others want a soda or fruit juice. Whatever their choice, seeing themselves catered to will make them feel at home and help make your gathering a roaring success.